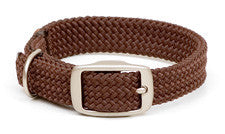 Mendota Double Braid Collar w/ Satin Hardware
This soft yet durable collar matches the Mendota leads and leashes. 
Infinitely adjustable and colorfast, with durable thickness for strength. The hardware has a satin finish. Each collar has the "Alta Qualitas" logo embossed in oil-tanned leather.
Width: 1"
Length: Up to 18" & up to 21"